Lyme Disease Studies Unit
NIH Main Campus, Bethesda, MD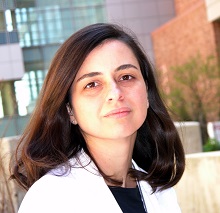 Evaluation, treatment, and follow-up of patients with Lyme disease to assess clinical outcomes.
Development of new diagnostic tests and identification biomarkers for Lyme disease.
Investigation of the immune response to B. burgdorferi infection.
Understand the mechanisms underlying post-treatment Lyme disease symptoms.
Investigation of the response to tick bites and development of tick immunity/resistance
Search for the cause of STARI.
Program Description
Tick-borne diseases are a serious public health problem. Lyme disease, or Lyme borreliosis, is a multisystem illness caused by the spirochete Borreliella (Borrelia) burgdorferi. B. burgdorferi is transmitted by ticks of the Ixodes ricinus complex (the deer or black-legged tick). Lyme disease is the leading vector-borne disease in the United States, with an estimate of with an estimate of 476,000 people treated for Lyme disease a year.
Lyme disease usually begins with the characteristic skin lesion, erythema migrans, at the site of the tick bite. After several days or weeks, the spirochete may spread hematogenously and patients may develop neurologic, cardiac, and rheumatologic involvement. While most patients recover from Lyme disease with antibiotic therapy, a percentage of patients have persisting or relapsing subjective complaints after therapy. This syndrome of nonspecific symptoms has been named post-treatment Lyme disease syndrome (PTLDS).
Our research has focused on exploring disease mechanisms in B. burgdorferi infection; assessing clinical outcomes in Lyme disease; development of new diagnostic tests and identification of biomarkers of infection; characterization of immunological responses to B. burgdorferi; and on investigation of potential causes of PTLDS.
We also are searching for the cause of Southern Tick-Associated Rash Illness (STARI).  STARI is a rash similar to erythema migrans that is associated with the bite of the lone star tick, Amblyomma americanum. The cause of the rash is unknown, as is the natural course of the associated disease.
Immune responses to multiple tick bites or multiple tick exposures can induce tick resistance in animal models and consequently protection against B. burgdorferi transmission. Similar findings are seen in humans, but little is known about the nature of the protective immune response. We study the response to tick bites to identify critical aspects of the human innate and adaptive immune responses in skin and blood following exposure to uninfected I. scapularis ticks; and monitor the acquisition of a tick-associated skin immunity. This research could lead to the identification of tick salivary proteins that are targets of host immunity and might serve as targets for an anti-tick vaccine.
Biography
Education
M.D., Federal University of Rio Grande do Sul, Brazil
Dr. Adriana Marques received her medical degree from the Federal University of Rio Grande do Sul, Brazil. She completed residency in Internal Medicine at HCPA, followed by a fellowship in Infectious Diseases at NIAID. She was then recruited to initiate a program of clinical studies of Lyme disease at NIAID, and since 1999, she has been a staff physician conducting clinical research and providing care for patients with Lyme disease and related disorders. Dr. Marques is the chief of the NIAID Lyme Disease Studies Unit and a leader in the study of Lyme disease and related disorders. Her major areas of research focus on exploring disease mechanisms in Lyme disease, post treatment Lyme disease syndrome and the development of better tests for diagnosis of Lyme disease and other tick-borne infections. In addition, Dr. Marques is interested in studying the host response to tick bites and acquisition of a tick-associated immunity.
Selected Publications
Gwynne PJ, Clendenen LH, Turk SP, Marques AR, Hu LT. Antiphospholipid autoantibodies in Lyme disease arise after scavenging of host phospholipids by Borrelia burgdorferi. J Clin Invest. 2022 Mar 15;132(6). 
Marques A, Okpali G, Liepshutz K, Ortega-Villa AM. Characteristics and outcome of facial nerve palsy from Lyme neuroborreliosis in the United States. Ann Clin Transl Neurol. 2022 Jan;9(1):41-49. 
Marques AR, Strle F, Wormser GP. Comparison of Lyme Disease in the United States and Europe. Emerg Infect Dis. 2021 Aug;27(8):2017-2024. 
Jain K, Tagliafierro T, Marques A, Sanchez-Vicente S, Gokden A, Fallon B, Mishra N, Briese T, Kapoor V, Sameroff S, Guo C, Marcos LA, Hu L, Lipkin WI, Tokarz R. Development of a capture sequencing assay for enhanced detection and genotyping of tick-borne pathogens. Sci Rep. 2021 Jun 11;11(1):12384. 
Turk SP, Lumbard K, Liepshutz K, Williams C, Hu L, Dardick K, Wormser GP, Norville J, Scavarda C, McKenna D, Follmann D, Marques A. Post-treatment Lyme disease symptoms score: Developing a new tool for research. PLoS One. 2019;14(11):e0225012. 
Tokarz R, Mishra N, Tagliafierro T, Sameroff S, Caciula A, Chauhan L, Patel J, Sullivan E, Gucwa A, Fallon B, Golightly M, Molins C, Schriefer M, Marques A, Briese T, Lipkin WI. A multiplex serologic platform for diagnosis of tick-borne diseases. Sci Rep. 2018 Feb 16;8(1):3158.