Primary Immune Deficiency Clinic (ALPS Clinic)
NIH Main Campus, Bethesda, MD
V. Koneti Rao, M.D., FRCPA
Senior Research Physician, Primary Immune Deficiency Clinic (ALPS Clinic)
Contact: V. Koneti Rao, M.D., FRCPA
Specialty(s): Hematology, Pediatrics Provides direct clinical care to patients at NIH Clinical Center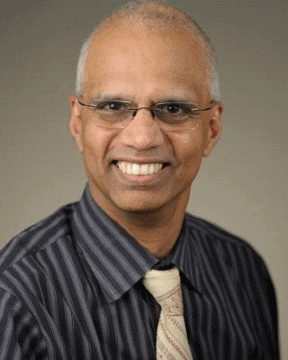 Major Areas of Research
Diagnosis, natural history and treatment of autoimmune lymphoproliferative syndrome (ALPS) and related inherited disorders of immune-dysregulation leading to refractory multi-lineage cytopenias and lymphoproliferation.
Program Description
Dr. Rao's current research and clinical activities focus on autoimmune lymphoproliferative syndrome (ALPS) and the related RAS-associated leukoproliferative disorder (RALD). ALPS is due to defect in the FAS gene leading to unusually high numbers of lymphocytes that accumulate in the lymph nodes, liver, and spleen, which can lead to enlargement of these organs with an increased lifetime risk of malignant lymphoma.
Paradigms learnt from diagnosing and managing ALPS are applicable to other similar rare immune disorders due to genetic alterations. For example, defects in PI3Kinase, CTLA4, LRBA, MagT1, and STAT3 genes can also lead to nonmalignant lymphoproliferation and autoimmune/autoinflammatory complications due to an aberrant lymphocyte life cycle. Affected lymphocytes infiltrate the bone marrow, lungs, liver, kidneys, and brain leading to complex symptoms that can require multidisciplinary clinical care teams and long-term follow up and research to better understand the natural history of their underlying condition and develop targeted treatments. These diseases affect both children and adults and have a predilection to hypersplenism and lymphomas, as well as autoimmune complications leading to low blood cell counts (cytopenias) and other end organ damage.
Many of these novel genetic defects are often being identified in patients presenting with cytopenias and lymphoproliferation mimicking ALPS and referred to the NIH Clinical Center for further evaluation. Hence Dr. Rao, along with a team of astute clinician collaborators, are interested in studying patients and families with cytopenias, nonmalignant lymphoproliferation, immunodeficiency, and as yet undetermined genetic defects
Biography
Education
M.D., S.C.B. Medical College and Hospital, Cuttack, India
Dr. Rao received his undergraduate and pediatric post-graduate medical education at SCB Medical College (Cuttack, Odisha, India) followed by Hematology training at the CMC Hospital (Vellore, India) and the Tata Memorial Hospital (Mumbai, India). Dr. Rao then undertook specialized training through a Hematology fellowship in Australia at Westmead and Sydney Children's Hospital, followed by a pediatric hematology oncology fellowship at the National Cancer Institute in Bethesda, Maryland in 1995. Dr. Rao qualified as a Fellow of the Royal College of Pathologists of Australasia (FRCPA). Since 2003, Dr. Rao has been a staff physician in NIAID conducting clinical research and providing care for patients with ALPS and related disorders of immune system with genetic underpinnings. Dr. Rao chaired the NIAID Institutional Review Board (IRB) overseeing clinical research protocols from 2006 until 2019.
Investigation of non-malignant lymphoproliferative disorders associated with cytopenias and targeted therapies.