Immunopathogenesis Section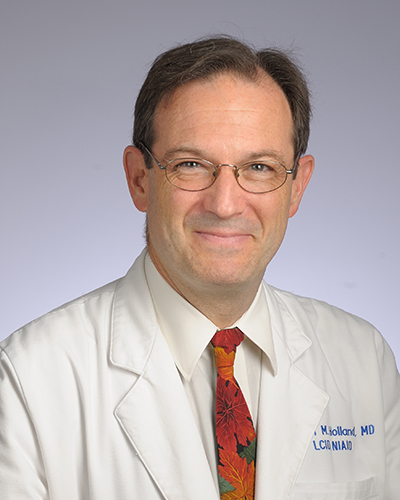 Major Areas of Research
Immune defects of phagocytes: GATA2 deficiency (MonoMAC), nontuberculous mycobacterial infections, chronic granulomatous disease, hyper IgE (Job's) syndrome, leukocyte adhesion deficiency
Cytokines and their receptors in the pathogenesis and therapy of infections
Susceptibility to disseminated mycobacterial infections, such as GATA2, autoantibodies to interferon gamma and defects in the interferon gamma/IL-12 pathway
Mechanisms of mycobacterial pathogenesis
Mechanisms of bacterial pathogenesis (e.g., Burkholderia)
Mechanisms of Coccidioides immitis pathogenesis
Mechanisms of airway dysfunction leading to mycobacterial and fungal infection
Program Description
The Immunopathogenesis Section therapeutic and research programs take a fully integrated approach to infectious disease, incorporating the molecular genetics of the host and the pathogen as well as mechanisms of pathogenesis that allow the development and study of novel therapeutics. The integrated bench-to-bedside model is intrinsic to the Immunopathogenesis Section approach and is reflected in the close involvement of trainees (both M.D. and Ph.D.) in laboratory work and in the clinical appreciation of disease, which together add new insights into mechanisms of action and avenues of therapy. New protocols in Coccidioides infections and pathogenesis of mycobacterial infections are in progress.
Biography
Education
M.D., 1983, The Johns Hopkins University School of Medicine
Dr. Holland received his M.D. from the Johns Hopkins University School of Medicine in 1983, where he stayed as a resident in internal medicine, assistant chief of service in medicine, and fellow in infectious diseases. He came to the National Institutes of Health in 1989 as a National Research Council fellow in the Laboratory of Molecular Microbiology, working on transcriptional regulation of HIV. In 1991, Dr. Holland joined the Laboratory of Host Defenses, shifting his research to the host side, with a focus on phagocyte defects and their associated infections. His work centered on the pathogenesis and management of chronic granulomatous disease, as well as other congenital immune defects affecting phagocytes, including those predisposing to mycobacterial diseases. He was chief of LCID from 2004 to 2016 and was selected as DIR director in 2016.
Selected Publications
Kuhns DB, Fink DL, Choi U, Sweeney C, Lau K, Long Priel D, Riva D, Mendez L, Uzel G, Freeman AF, Olivier KN, Anderson VL, Currens R, Mackley V, Kang A, Al-Adeli M, Mace E, Orange JS, Kang E, Lockett SJ, Chen, Steinbach PJ, Hsu AP, Zarember KA, Malech HL, Gallin JI, Holland SM. Cytoskeletal abnormalities and neutrophil dysfunction in WDR1 deficiency. Blood. 2016 Aug 24. Epub ahead of print.
Kuehn HS, Ouyang W, Lo B, Deenick EK, Niemela JE, Avery DT, Schickel JN, Tran DQ, Stoddard J, Zhang Y, Frucht DM, Dumitriu B, Scheinberg P, Folio LR, Frein CA, Price S, Koh C, Heller T, Seroogy CM, Huttenlocher A, Rao VK, Su HC, Kleiner D, Notarangelo LD, Rampertaap Y, Olivier KN, McElwee  J, Hughes J, Pittaluga S, Oliveira JB, Meffre E, Fleisher TA, Holland SM, Lenardo MJ, Tangye SG, Uzel G. Immune dysregulation in human subjects with heterozygous germline mutations in CTLA4. Science. 2014 Sept 10;345(6204):1623-7.
Spinner MA, Sanchez LA, Hsu AP, Shaw PA, Zerbe CS, Calvo KR, Arthur DC, Gu W, Gould CM, Brewer CC, Cowen EW, Freeman AF, Olivier KN, Uzel G, Zelazny AM, Daub JR, Spalding CD, Claypool RJ, Giri NK, Alter BP, Mace EM, Orange JS, Cuellar-Rodriguez J, Hickstein DD, Holland SM. GATA2 deficiency: a protean disorder of hematopoiesis, lymphatics, and immunity. Blood. 2014 Feb 6;123(6):809-21.
Sampaio EP, Hsu AP, Pechacek J, Bax HI, Dias DL, Paulson ML, Chandrasekaran P, Rosen LB, Carvalho DS, Ding L, Vinh DC, Browne SK, Datta S, Milner JD, Kuhns DB, Long Priel DA, Sadat MA, Shiloh M, De Marco B, Alvares M, Gillman JW, Ramarathnam V, de la Morena M, Bezrodnik L, Moreira I, Uzel G, Johnson D, Spalding C, Zerbe CS, Wiley H, Greenberg DE, Hoover SE, Rosenzweig SD, Galgiani JN, Holland SM. Signal transducer and activator of transcription 1 (STAT1) gain-of-function mutations and disseminated coccidioidomycosis and histoplasmosis. J Allergy Clin Immunol. 2013 Jun;131(6):1624-34.
Browne SK, Burbelo PD, Chetchotisakd P, Suputtamongkol Y, Kiertiburanakul S, Shaw PA, Kirk JL, Jutivorakool K, Zaman R, Ding L, Hsu AP, Patel SY, Olivier KN, Lulitanond V, Mootsikapun P, Anunnatsiri S, Angkasekwinai N, Sathapatayavongs B, Hsueh PR, Shieh CC, Brown MR, Thongnoppakhun W, Claypool R, Sampaio EP, Thepthai C, Waywa D, Dacombe C, Reizes Y, Zelazny AM, Saleeb P, Rosen LB, Mo A, Iadarola M, Holland SM. Adult-onset immunodeficiency in Thailand and Taiwan. N Engl J Med.2012 Aug 23;367(8):725-34.
Research Group
Li Ding, M.D.
Emilia Falcone, M.D.
Yu Han, Ph.D.
Alexandra F. Freeman, M.D.
Amy P. Hsu, B.A.
Beatriz Marciano, M.D.
Masashi Matsuyama, M.D., Ph.D.
Katelyn McCann, B.S.
Lindsey Rosen, B.S.
Gulbu Uzel, M.D.
Elizabeth P. Sampiao, M.D., Ph.D.
Christa S. Zerbe, M.D.
Ofer Zimmerman, M.D.